Howdy folks! This week I'm taking a look at how to make the most of existing communities and what you need to focus on if you decide to create your own all with hopes of increasing links and improving your SEO strategy.
1. Plan ahead!
It really is a shame when a campaign goes hot and no attention has been paid to the potential SEO benefits. Linking the campaign back to the site is absolutely essential here. If you have a great idea there is almost always a way to ensure when it spreads like wildfire, you will still get all the benefits.
I have seen so many great campaigns on Facebook that do nothing to tie the information back to the main site and take advantage of the potential links. Most of the campaigns that take place on Facebook could just as easily be embedded into the main site and create a serious SEO impact.

If, for example, Ikea had created a page on the Malmo website with a countdown before a "major announcement to win free Ikea furniture" before revealing the link from the Ikea site the campaign could have captured a shed-load of links. Instead, by virtue of running the entirity of the competition on the Facebook page, this ingenious marketing plan may have gained a great deal of exposure, but will have gained very few links.
2.    Get Others to Work for You
As the title suggests, sometimes the easiest short term solution is to tap into existing networks. We're not talking about blog spamming someone else's niche blog, but rather tapping into existing communities and offering something that is of interest to them, and no one has done this better than Pepsi.
I'm not trying to say what Pepsi is doing here is bad or dishonest, on the contrary they have made the most of existing communities by engaging them in their most recent campaign by rewarding them.  As part of their "refresh" campaign Pepsi pits charities against each other and the most number of votes wins. The contest starts over monthly and with all of the widgets and social media options built into these campaigns it should be no surprise that these pages can rack up a good number of links and can help with brand recognition as well. It might have been smart for Pepsi to have built this as a section on the existing homepage but I imagine they get enough links as it is.
Image from: Pepsi Refresh
We don't all have $250k to give away to charity each month, but there are always creative ways to tap into existing communities (charities in this case) and get them to spread the word for you.
3.    Provide Valuable/Interesting Information
I know, I know we've all heard this one before but it's true. Everyone has something to offer and some data that within their very own company that can tell an interesting story. And it won't just be of interest to your country if it's done right, but in fact to your entire industry.
Sometimes doing research isn't all that much fun. But, with that said, it can be a pretty darned effective way to get links. While this may not seem the most obvious of techniques, it certainly is one of the most effective. If your brand is an industry leader and you have an existing community why not share information with others in the industry?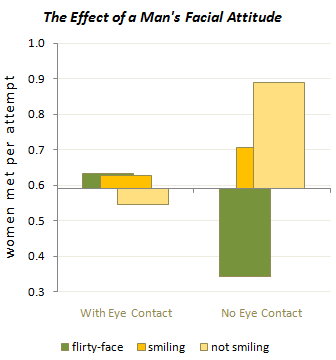 The age-old example of this technique is OKCupid. Their information may not always be the most "valuable" (I guess that depends how hard-up you are for a date) but it certainly is interesting and entertaining.
Perhaps the most valuable lesson for this technique is: make it accessible. It doesn't take that much extra effort to make a nice infographic, table or chart to spice up your information... and it makes users a whole lot more willing to link.
And finally, once you've got this fancy infographic or lovely chart make it easy for the user to share it on their blog, in their social network, etc. A little embed code won't be that hard to add in and you may be surprised how much it will help spread the love. Which brings us to our next point...
4.    Make it Easy
If your site is going to have loads of videos, recipes, etc. Invest in the dev work to make this information more easily shared. It's great (and very easy) to use YouTube and Vimeo to embed files into your site without hosting it yourself. However, having control over this content and control over the links associated with the content when shared can come in pretty handy. It may be worth building your own video player, MP3 player or other multimedia share agent (as Today's Big Thing demonstrates below).
It's nice of YouTube and Vimeo to offer the common web user the opportunity to create, embed and share video easily, but at the end of the day these sites will be the ones getting most (if not all) of the SEO benefit when your hilarious video goes viral.
*Before you go crazy on pre-loading these videos with valuable anchor text links be sure to read this post from seoMOZ on Widgetbait Gone Wild.
5.    Awards
Everyone loves to be recognised. So, what better way to get a link from a community member than to shower them with praise and award them with incentive to link back to you!?
Sometimes these may not be particularly meaningful in the grander scheme of things and there may be some much more "important" industry awareds, but that doesn't mean they will be any less important or motivating to the recipient.

From: The Dress Barn
Perhaps it is a "contributor of the month" badge. Or an "Outstanding Local Business Award". The size and importance of the award will vary depending upon the size of the awarding body (i.e. your brand). If you run a business employing 2 staff and give your local pub an "Outstanding Local Business Award" it's unlikely that they will post this on their website or hang it up on the wall. However, some of your smaller local businesses may be over the moon and happily link out, show your badge and mount a plaque. There is no way to know until you ask- and everyone loves to feel special.
6.    When all else fails, create your own community.
In the interest of transparency it is worth pointing out that this post was inspired by my father's recent work in building a community for the food industry and a place where his clients can create their own space and direct traffic to the site. He asked for some advice in building this up and I was super proud that he was interested in how SEO could benefit not only him, but also all of the clients who signed up to participate.
This route takes considerably longer to see through. Building an active and engaged community will not happen overnight (and has been the feature of a number of other blog posts). but the benefit of creating your own is that you can make the community work for you in the most SEO friendly way from the get go. Done properly, building a community around your brand can save you tons of man hours on outreach and linkbuilding campaigns. Completely changing your brand and brand positioning can be a daunting and difficult task. Creating a new community as part of this process alleviates some of the tension around this task and will hopefully save you from uncomfortable transformations in the future. Just like with information architecture when building a website: if you get it right in the first place it will make everything run so much more smoothly and effectively in the long run.

Image from: 27B/6 (Probably NSFW)
It's probably unrealistic to think you'll create the "next Facebook" or "next Twitter" (though you never know!) but that doesn't mean that smaller niche communities are not valuable resources. These communities, when executed properly, tend to be much more engaged and thereby more likely to generate the right kind of buzz and drive the right kind of traffic... even if they don't drive the massive amounts of traffic you may have been hoping for.
Message boards may be old-school from a technology perspective but you'd be surprised how many people still use them and the willingness of people to give you the shirts off their back in the most engaged of communities.
If it comes to creating your own community you might want to check out Rich Millington's blog about online communities. In addition to his how-to start a new community, you might want to read "Why Most Organizations Shouldn't Try to Create an Online Community." Rich suggests you only need to create a community "when your audience has a desire to talk to each other and when there is a benefit to the audience from talking to each other." Rich also suggests that this will only be the case about 10% of the time so be wary about using this method unless you've done your research!
As you may have realised by now, creating a community should not be the first choice here. If there aren't any existing communities that you can put to work for you, or you are building a new site then this may be a great adventure but it will take lots of work and has to be done right. If the platform already exists put it to work, if it doesn't... be the platform, or prepare to groan and moan when someone else creates the next Twitter.